Over the years we have also developed expertise in various ancillary services closely related to injection moulding. Specifically, we can now offer, for example, 3D printing, tomography and dimensional analysis, product screen printing and laser marking. The synergy between the different fields of application allows us to meet the customer's needs in-house, and the product is designed down to the last detail and immediately ready for use.
We can offer different levels of control depending on the complexity of the part and the volumes produced. We have the necessary equipment to be able to check the dimensions of the parts produced. For more demanding control requirements (0 defects, critical tolerances, large volumes) we can set up vision systems integrated with the production line. For some customers we already check 100% of the parts using optical vision systems and 3D scanning that automatically reject out-of-tolerance parts.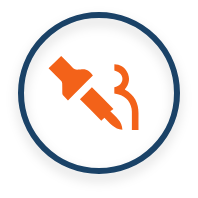 Thanks to this technique we can merge different components for an irreversible assembly.
We guarantee sharpness and precision in the application of lettering and logos on your products after moulding.
We bring our know-how to you
Depending on your business needs we can develop a solid partnership over time. We can bring our production and processing know-how to your plant, creating a long-term partnership that brings value to both of us. This service is a plus that allows us to improve service, time and costs.
Trust those who have chosen us
Our technicians are at your disposal. Please use the form below to send us your request, we will reply as soon as possible.